Services
We offer our Pic Share Photo Booth rentals for a wide variety of events from weddings, birthdays, and parties, to school dances and corporate events.
Choose from many options available such as, green screen/digital backgrounds, video options, & more. Choose video to allow guests to leave a 30 second message to the party host. This is the perfect alternative to a wedding/event guest book. Instead of a guest sign in book that just collects dust over the years, you can have a wedding/event video guest book (DVD) and relive the memories of your guests and their well wishes .
Have a themed party, or just want to let your guests get creative? Then the green screen/digital backgrounds is for your event. This allows for your guests to have creative freedom and unlimited fun. How does it work? Upon you or your guests entrance to the Photo Booth, the touch screen will prompt you or your guest to select from our digital background library. After a background is selected, the booth will count you down, take the pictures, key out the green screen, and replace it with the selected background. All you and your guests have to do is select some of our provided props and get creative with your poses. Below are before and after examples of the green screen at work.
If you prefer an open air booth (unenclosed free standing booth) with no backdrop, may we recommend our Magic Mirror Photo Booth? Have a fairytale or themed event? Let us bring the magic with our interactive magic mirror mounted on a brick wall with a fireplace below (LED lit mist "fire" effect safe for indoor use. No smoke or heat emitted). You can choose the color of the flame or have the flame change colors through a fade feature. How does it work exactly? You or your guests will approach the mirror which will have a prompt to "touch to start". Then the man in the mirror will appear and instruct you to step back to the line and pose for each photo. This mirror will have a red carpet rolled before it with a pose line. It'll be roped off with red or black velvet ropes according to your choice. A prop table and a photo booth attendant will be right by its side to assist in the evening entertainment.
Below is an example of the Magic Mirror Greeting Animation upon activation.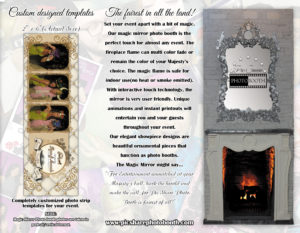 Custom template for your strips to match your event are available. Tell us or show us your event color scheme or theme & desired wording on your photo strip print outs and we will design it to match. Have a specific logo you would like? Just send us the file and we will insert your logo/design into the strip template. Keep in mind that our Magic Mirror Photo Booth strip templates are design with the pictures taken in a portrait layout(Vertical) and the strips are designed to be displayed in landscape layout(horizontal). Here is an example of a Halloween themed birthday party event we did in the past.
Our standard enclosed photo booth with green screen and digital backdrops take photos in landscape mode(horizontal layout) and the strip layout is vertical. see the example below.